I think I have a mild case of whiplash after a
weekend being driven around Sicily. No head-on collisions involved, thankfully, given the Sicilians' notoriously haphazard style of driving. On my frequent visits to this beautiful island I am always surprised one doesn't see pileups on every intersection-although the telltale signs of "who dares wins" driving-such as wing mirrors hanging limply or completely missing-are a fairly common sight. But traffic was not responsible for the ache in my neck. It's the countryside that's to blame. There's too many picture postcard sights. Sailing along country roads that cut a straight path through endless olive groves which suddenly part to reveal a tree-lined gravel driveway leading to a dreamy farmhouse. Or winding up and down hills covered with knotted trees clinging precariously to the slopes, I catch a glimpse of horses standing sleepily in spots of shade. Its all flying by too quickly but we're trying to cover a lot of ground in the 2 day visit. We're on a reconnaissance trip visiting several locations for our forthcoming painting weekend in May.
We arrive at our first destination after dark and as we approach the entrance to l Monasteri Golf Resort the only sound to be heard is the car wheels crunching on the driveway. And the clunk of our jaws dropping. The building-a monastery converted into a luxurious 4-star hotel-is stunning. Together with the leafy grounds which give way to the green lawns of the golf course, its breath-taking. It will be our accommodation for the 3 day painting holiday and the Day One location for our painting participants. Those painters who can't get enough of it can choose to spend Day Two there as well. Or they can opt to join the painting group which will be spending the day in Noto.
We're in Noto scouting for spots to paint. It's a difficult one. Spoilt for choice. This hilltop city is basically a one horse town setup but with a distinctly upmarket feel to it. .a bit of a medieval Millionaire's Row look to it. The main stretch features some magnificent buildings with the essential massive Duomo cathedral taking centre stage. After I settle on one
position and set myself up to paint, a young lad sidles up to me and puts his hand out. Chattering away in unintelligible street banter, he's trying his luck with me. I banter back equally unintelligible to him. Shortly after, an old woman appears rattling a tin can. So much for Millionaire's Row.
I noticed this glaring discrepancy throughout our journey across the Sicilian landscape. While our driver and guide, Mario Spiteri, with whose company we are collaborating to organise the painting holiday, was impressing us with his indepth knowledge of all things Sicilian, I had question marks forming ever deeper creases on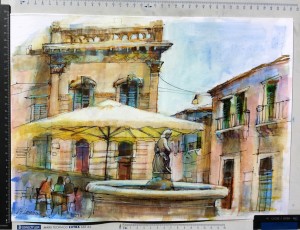 my forehead with each snippet of information that he threw at us. We drive through the region of Pachino famous for its cherry tomatoes, the undulating valleys around Gairratano noted for its delicious sweet onions. Everywhere, acres of citrus orchards with oranges fattening on the branch, and olive groves spreading out as far as the eye can see. Vineyards with their plentiful vines laid out in orderly lines incubating their nectar of the gods. This glorious landscape is Kingdom Come in my bible. And yet, scattered everywhere in the middle of nowhere are quaint and iconically idyllic farmhouses with caved in roofs. Abandoned and surrendering their former industrious hearts to the encroaching swarm of wild shrubs. What's going on? Equally disturbing in being so commonplace are the half-built concrete structures standing vacantly by the wayside, like the skeletons of hope. As if the contractor suddenly halted works halfway through because he got wind of a distant aunt having died and he needed to rush off to attend the reading of her will. These scars on an otherwise splendid landscape whisper darkly, but I can't understand their incongruity. So I tip my tourist hat and move on. The intoxicating charm of Sicily prevails.
The next stop on our scouting trip is the idyllic seaside village
of Marsamemi. Some sources suggest the name is derived from Arabic meaning port of turtledoves. Marsamemi, for its size, is a big teaser. It's really only a mini marina waterfront with a few boathouses and some rusting boats perched among reeds, and a large enclosed square which is pure eye candy. Its full of cute cafes and restaurants with pastel coloured outdoor furniture and boutiques with expensive linen garments hanging temptingly on their facades, and two baroque churches. One of the churches looks ancient and derelict, standing in silent testimony to a bygone era.
The weather has taken on a bad temper and the sea just beyond the square is churning itself against the rocky shore. We're hanging onto our hair as we set about preparing some sketches. The magic of this place must be loaded because even in the grey wind, there's something so romantic about it.
The next day we visit Palazzolo Acreide. It being a Sunday the cafes on the main piazza are buzzing with local gents dressed in their best, all looking like extras in a stereotypical Cosa Nostra movie. The sun is out, the coffee smells great and we're all in good spirits. Off we go, next visit: the quaint hillside town of Giarratano. It's as picturesque as a rural Sicilian town gets but I won't tease you with descriptions of the rustic lanes of the old quarter, the gaily painted cottages, the stunning panoramic vistas. . .because we've decided, with much hand-wringing, that to lessen time on the road we have to skip this location.
Well that's settled then. We finalise our rekkie notes, and head for the ferry terminus. No sooner has the ferry pointed its nose out to sea heading towards Malta, homeward bound, and I'm thinking I can't wait to come back. Roll on May!
View more pics of the locations we visited here
To view full programme click here
Read Jeni blog about our test-run trip HERE
Your art tutors on this adventure will be Jeni Caruana and C.S.Lawrence.
Join us-its bound to be a great adventure!