Yes well, I'd like to launch into a fairytale and lord knows don't we half need a bit of suspension of reality given the grim state of world affairs. Facebook feels like a wall of white noise, alternately flooding with a barrage of distressing news to which so many respond by flexing their opinionated muscle, or gushing with cutsie animal stories or hilarious videos about demented pets which only marginally alleviate the bitter taste of the reality pill. I'd rather invite you to join me on a trip down my own yellow brick road, back to the enchanting world I grew up in – okay, perhaps given my privileged lifestyle as a British expat, I was enjoying a shielded life, but it afforded me some beautiful memories. Here's one: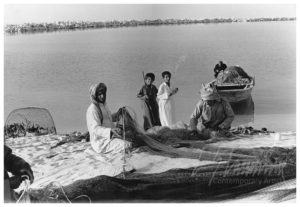 One day as I was sifting through my many boxes of photos and negatives (that dates it for a start!) I came across a large b&w print. It had been taken back in Dubai, probably mid 70s, when I was out there on a school holiday and my Big Sis collared me to join her on one of her many photo jaunts.
Our mode of transport was her rust bucket Beetle affectionately called Jezebel (known to many a local traffic policeman for the times she was pulled over because an indicator or a headlight wasn't working) and headed out of the beach town of Jumeirah where we had a beachfront bungalow and drove along the desert road which stretched like a black ribbon hugging the coast all the way to Abu Dhabi. Scattered along this road were ramshackle fishing villages made up of clusters of simple barasti (palm frond roofed) dwellings and lots of small wooden fishing boats parked lopsided on the white sand. At one village we excitedly pulled off the road as we spotted a group of fishermen tending to their nets. You couldn't get more rustic than this. The fishermen, dressed in their blinding white thobes, were joshing with each other as they deftly unravelled and cleaned their nets for the next day's dawn venture and around them a bunch of young lads hung about, swinging big rifles.
We approached and tentatively asked if we could photograph them. They smiled broadly and willingly obliged, conceding quizzically to our evident excitement at what for them was ordinary. Our shutters clattered repeatedly as they nonchalantly went about their work. The boys posed. None of that flailing of arms and shooing us away, shielding their faces for fear our image catcher was going to steal their souls. Clearly the inexorable wave of Saudi puritanical religious bigots with their scruffy beards had not reached this remote area of the Emirates. Yet. Nor perhaps would it even in today's reactionary climate within the Muslim world. And I think it's all down to Dubai's visionary founding father, Sheikh Rashid bin Makhtum, who strictly laid down the fundamental principle – religion and politics do not mix with trade – which would lead to what Dubai is today.
My father Lawrence Said had befriended Sheikh Rashid al Makhtum founder of Dubai, soon after Caltex had sent him from Kenya in 1969 to set up the first petrol stations in Dubai. It was a friendship which would last for the duration of my father's career in the region.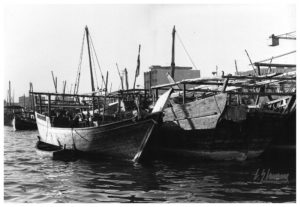 The Dubai creek was another favourite location of ours. The imposing wooden trading vessels (called dhows) would be stacked cheek to jowl, maybe six deep, along the waterfront. You can see some of the paintings I did of Dubai Creek in my Dubai album.
Somewhere along the creek, I think on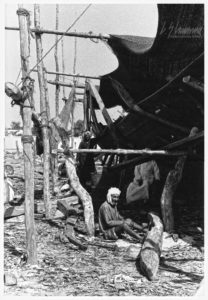 Deira side, there was a shipyard where we'd often go to watch old craftsmen chip away at huge logs of wood as they built the skeletons of these massive boats.
Back then, in the raw ambiance of a rustic desert town which yet was to become a towering hall of mirrors and mansions of glitter, something would embed itself in the deepest fibres of my soul. To describe it I risk reducing it to corny cliches-a craving for adventure; wide open spaces; simplicity? I rather leave it to manifest itself in my paintings , specifically my paintings of faces. I let them do the talking.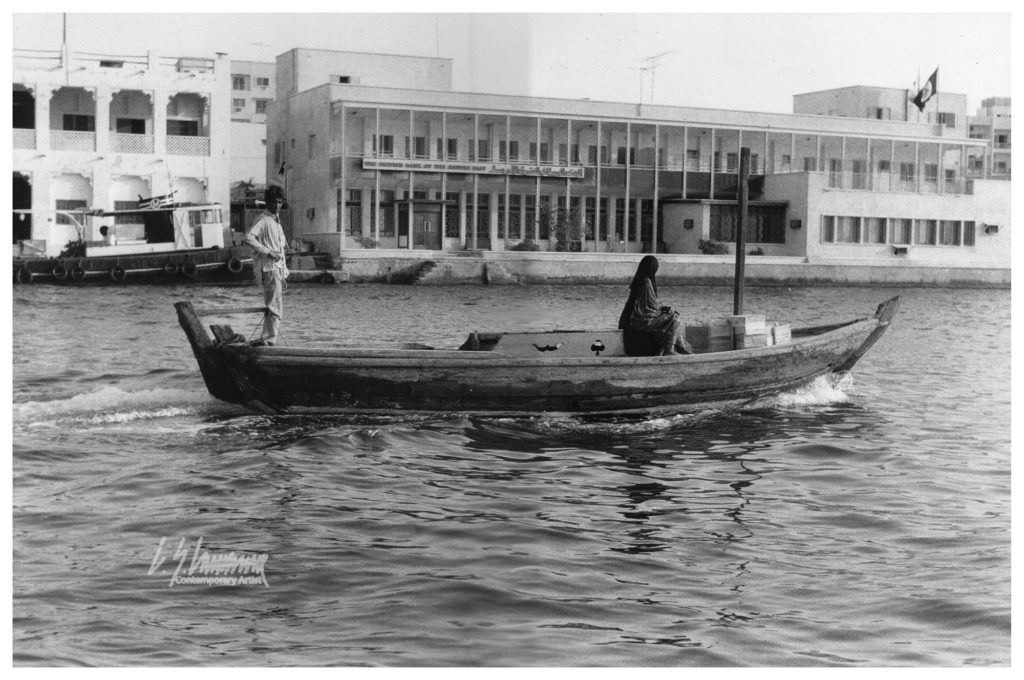 "ART enables us to FIND ourselves and LOSE ourselves at the SAME time." Thomas Merton
REMEMBER THIS? : ELTON JOHN's YELLOW BRICK ROAD