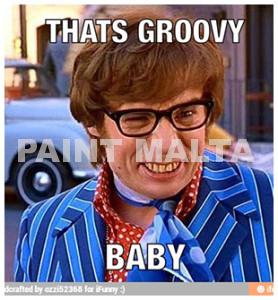 "If you remember the 70s then you weren't there." Heard that before? I don't remember much of it but not for the reason that you think. I didn't have much opportunity to indulge in the happy camper spliff smoking culture for which that decade is known because I was either in virtual lockdown at a convent boarding school or I was home for the holidays in Dubai. However the things that marked out that decade must have somehow filtered through the impervious walls of the convent and been exported to the Dubai expatriate community because last week while watching the 70s episode of the BBC series "Back in Time for the Weekend" I was constantly slapping my thigh and exclaiming "ohmygawd! I remember that!" Polyester shirts hugging the pasty white torsos of ferile young lads on dance floors whose generous lashings of cologne couldn't conceal the odour of their sweaty armpits . Loud fabric patterns. And particularly, the ghastly orange and brown colour schemes which featured throughout interior decors, from tea sets to bathroom tiles.
The 70's the saw introdu
ction of colour TV. Suddenly people could see things in colour. Before they would refer to everything as being a certain tone. This had been very confusing for musicians. But now musicians would exploit this new world of colour by performing in outfits that looked like a Mardi Gras Diva who had inadvertently been caught in the crossfire of a paintball game. I was exposed to this androgynous gender-bending hippie anti-conformist chic look largely from LP covers during my frequent browsing in music shops in London. I'd also spend many a half term holiday with my dear Aunti Jose and Uncle Norm who ran a music shop in Plaistow. I vividly recall one evening after my auntie had shut the shop she excitedly pulled out a 45 record from a shelf, slipped it out of its cover, plonked it on the turnstile, handed me the earphones and said "Listen to this!"
In that s
mall cramped
shop which was the closest thing to a house of worship for me, I was blown away. Only recently while watching a BBC series about 70s music did I learn of the groundbreaking techniques employed in the production of this record, but back then it was just a sound that swept me away. If I could choose something that marked my swift slide down a slippery slope into rebellious anti-conformism, which resulted in my being expelled from my convent school, it could be this record. 10cc's "I'm not in love" has a lot to answer for. I know you must be dying to know how on earth i could possibly have been expelled from a convent. Ok well the short version involved my getting together with some fellow partners in crime, all keen alcoholics in the making, and conducting a raid on the chapel sacristy's wine cellar.
I've never been much of a fashionista but, being a serious music buff, the 70s music icons did influence what you could very broadly call my style. I recall one time when returning from Dubai after a holiday, the nun who was driving me back to school was evidently having a good chuckle. "Had a good time then dear?" Was she alluding to my tan which I had spent the last few weeks religiously developing (coating myself in that toxic mix of baby oil and vinegar while basking under the desert sun)? No, it most surely was what I was wearing. I was dressed in multicoloured patchwork bellbottoms and lime green shirt, and to top it all I was sporting the most enormous yellow sunglasses that resembled a windscreen perched on my nose. I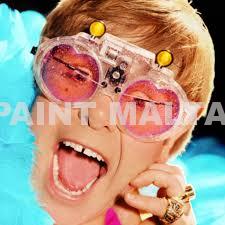 must have looked like a recipe from a cookbook entitled "How to Bake a Hippy". Step one: pour 2 large cups of David Bowie into bowl. Add 3 heaped tablespoons of Cher. Mix in blender and garnish with gratings of Elton John. All I needed was to acquire a stutter to polish off the B-B-B-Bennie and the Jets look. A few years later while attending St.Martins School of Art (then in Charing Cross Road) i reached new heights of anti-fashion fashionista status by acquiring the essential accessory: a full length fur coat purchased (as an anti-establishment statement of course) from a charity shop. It looked like it had come from a large hairy creature which had gotten into a brawl with a lawnmower. And lost. It was disgustingly way past its sell by date, and I cherished it. My parents generously ensured I wanted for nothing; they had set me up in a studio flat in Pimlico square which must have cost them a fair chunk of change, together with my art college fees. (My biggest regret is that they died before i was mature enough to thank them.) But there i was, happy as a bug in a rug, rummaging around in 2nd hand shops. Happy is a red flag word in this context; I was, but I was also deeply confused and floating like detritus on a current of emotional sludge which was slowly but surely taking me on a life-changing collision course.
Back in Dubai during my school holidays, one of my greatest pleasures (even outranking the photo-shooting escapades to outer lying fishing villages which my big sis would take me on), was browsing in music shops. My big sis, who worked as an English teacher, was also a singer/guitar player and performed at plush hotels such as the Carlton on Dubai creek. Suitably attired in glittering kaftans and matching slippers, hair style fashionably large, she'd croon her way through hits by the Mamas & The Papas, The Platters, Neil Diamond etc. (Here I am decades later doing a take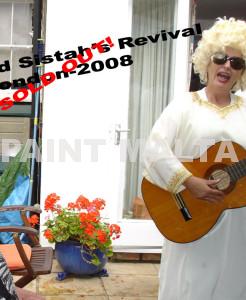 on her in a special performance for her 60th birthday.) However it was during my skirmishes in and around Soho music shops where I became acquainted with the likes of Pink Floyd, Genesis, The Who, King Crimson, Mike Oldfield and Yes. Today's 30-somethings have no idea, unless they're retro fans, of the exquisite audio-visual rush enjoyed each time a newly acquired LP was slipped out of its paper sleeve and carefully placed on the stereo turntable. With all the religious devotion of a worshipper lighting candles in a temple, I'd delicately place the needle head on the edge of the record and the speakers would softly crackle to life. The cherry on the cake was the visual feast of the album cover's art.
My particular fave was Roger Dean's otherworldly paintings on the Yes albums. Ethereal dreamy landscapes very similar to another of my favourite artists-Maxfield Parrish-with a surrealist Daliesque twist. Perhaps that is why I have always wished, during my art exhibitions, to have earphones installed next to each artwork so that viewers could listen to a particular personal favourite music track while observing the painting. They might then pick up on the emotional undercurrent that informed the painting during the process of its creation. But then, maybe they do, regardless.
Back to that joyful confusing emotionally turbulent year in the mid-70s, picture me doing what probably thousands of other youngsters in London were doing: lying on my back in a dark cold bedsit room with earphones on, candles flickering and melting down the sides of Mateus Rose wine bottles, watching the ribbon of smoke from my cigarette twirl in the air above me, listening to the rich sounds of such like Pink Floyd's Great Gig in The Sky. On one such night I had that head-on collision I referred to earlier. Like a fish sucked up by a tornado, it was to spiral me into a completely different life. And almost 20 years would pass before I would pick up a paintbrush again.
"The yellow smoke that rubs its muzzle on the window-panes, Licked its tongue into the corners of the evening,

Lingered upon the pools that stand in drains, Let fall upon its back the soot that falls from chimneys,

Slipped by the terrace, made a sudden leap, And seeing that it was a soft October night, Curled once about the house, and fell asleep."
"
Featured painting: "Yellow Cinquecento, London" by C.S.Lawrence