It's a tremendously satisfying experience to meet a group of total strangers one day and within 48 hours feel you've become the best of friends. And the only bonding exercise used was painting together. So it was at a recent art weekend set up with the collaboration of a local B&B hostess and myself. No ordinary B&B I might add. Sonette Aboud runs Casa Sonette in an exquisite house of character tucked in the lanes of Ghaxaq (Ah-sha), a small village in the south of Malta. Among its many eye-catching features the house has a beautiful large courtyard where tuition classes were set up under the courtyard's canopy of vines and bougainvillea.
Three enterprising women from Estonia had booked a vacation in Malta and their prime objective was to spend their time painting. Already quite accomplished, nevertheless these adventurous women felt it would be a good opportunity to get in some tuition during their stay at Casa Sonette. When they asked Sonette if this was possible, she immediately called me, having already held a very successful art weekend with me last year.
The 2-day art weekend consisted of two 3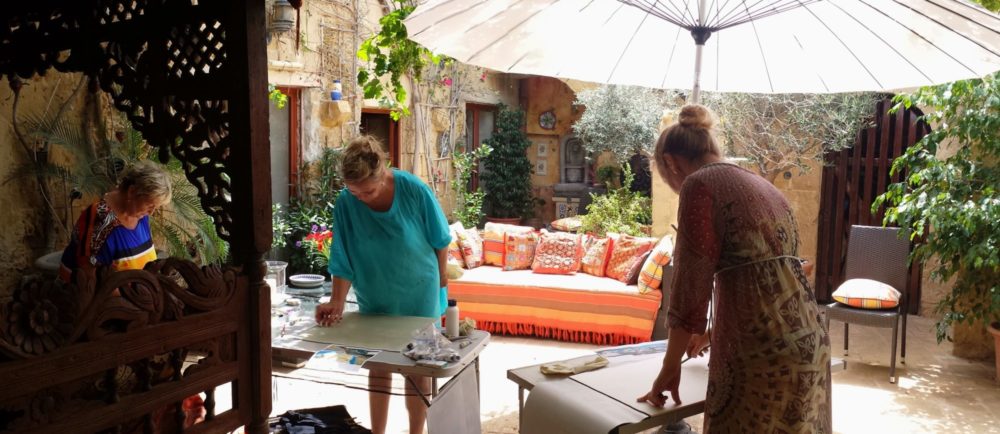 hour sessions per day with a break for lunch. On Day One I took a look at what the group of women had been producing in the preceding week and gave a critique. Impressive was my first reaction; given the volume of work, these women clearly couldn't stop painting. Then came the gentle pointers regarding how better to convey the colours within shadows. The harsh glare of Malta's summer light can easily mislead aspiring artists into seeing only dark neutral greys when in fact shadows glow with colours ranging from purples, blues and yellows. Other tips included observation of how the colour of any given object is affected by the colours around it, how light bounces, how hot colours need to be balanced with cool colours, and vice versa.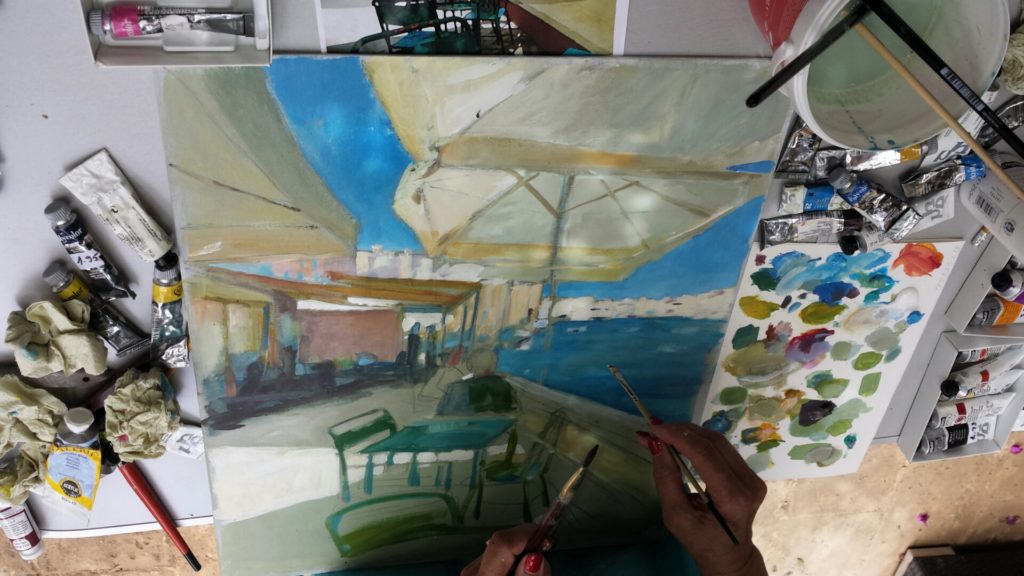 After a sumptuous lunch cooked by our charming hostess, I gave them some images of cafes on Senglea promenade, chosen because of the shadows cast by umbrellas and the contrasts they created against the glaring sunlight and glittering sea. The women were each working in different media, ranging from watercolours, oils and acrylics. This was a challenge for me but really, given that they already knew how one medium required working from lights to darks while another required the opposite process, nevertheless the same principles applied: establishing a focal point and then manipulating lights and darks, bold and soft colours so as to keep the viewer's eye on the ball, so to speak.
On Day Two we packed up our gear and headed to the beautiful southern coastal fishing village of Marsaxlokk (Marsa-shlok). The village was heaving with visitors to the highly popular and very colourful Sunday market. It was also boiling hot.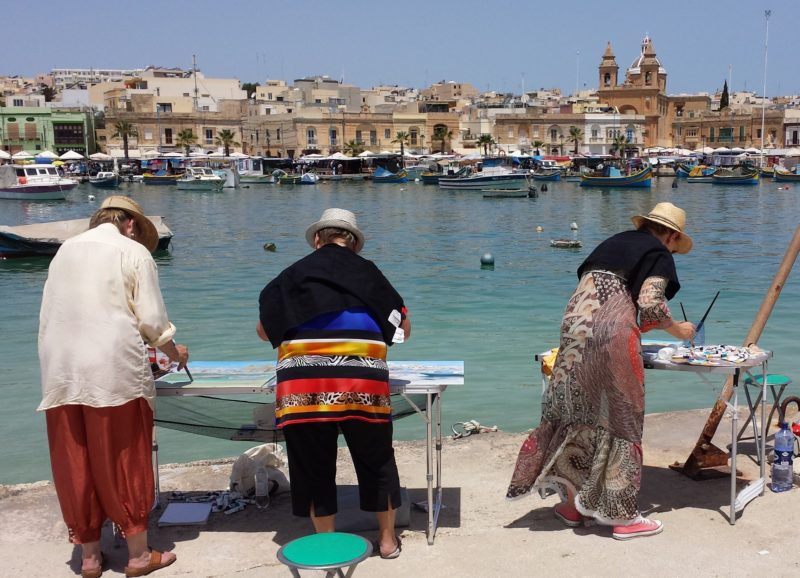 Unphased, this intrepid bunch of painters set up their tables on a bank of sand facing the main promenade so they were comfortably removed from the heaving stream of pedestrians. Covered in shawls and hats and thick layers of sunblock, the painters set about first defining a point of focus in the confusing array of colour and forms before them: the colourful traditional Maltese fishing boats clustered together in the aqua blue sea and the muddle of houses and church dome crowding the seafront. Finding those particular dazzling greens and blues of the shallow sea was a challenge. However 3 hours later after much battling with the way acrylic dries so fast particular when applied in burning sunlight, the painters had nailed it. Satisfied, they downed their materials, peeled off their covers and waded into the cool sea. They'd come prepared, wearing their costumes under their clothes. I hadn't. I could only roll up my trousers and stand like a steaming horse knee-deep in the shallow aqua green water. We then headed off to a local restaurant for lunch.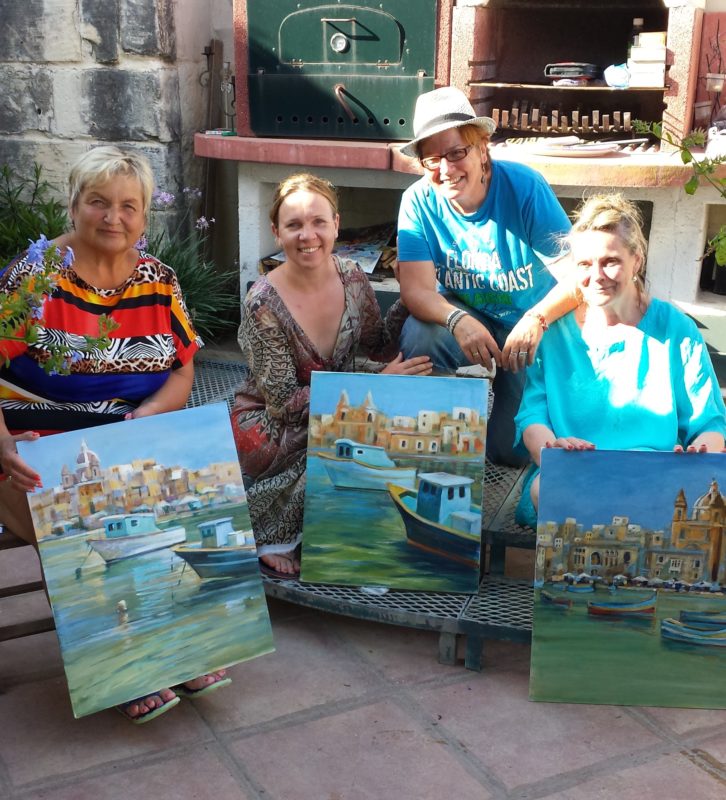 Back at Sonette's in the late afternoon, relishing the shade of her courtyard, the painters applied where necessary the finishing touches to their beautiful paintings and we had another final session of analysing each other's work. The art weekend was over but our friendship wasn't. We all agreed to finalise a highly productive and thoroughly enjoyable time with a meet-up for dinner at a wine bar in a nearby town. That was the last I saw of them but continued contact via social media promises that we might quite likely meet up again, somewhere someday.
……Maybe an art holiday in Estonia?
"The passion for art is, as for believers, very religious. It unites people, its message is of common humanity. Art has become my religion – others pray in church. It's a banality, but you don't possess art, it possesses you. It's like falling in love." Francois Pinault